Nutrition Coaching Services
In the information age of today, determining what the best approach to one's goals can be challenging and overwhelming. There are many factors that can play into one's overall nutrition profile and many claim they have the "best" solution. However, we are all individuals with different backgrounds, current situations, and goals and there is no "one size fits all". With the coaching support of Pat Andrew, we will focus on what works best for you! Pat will coach you through the mountains of nutritional information out there and help you decide what is best for you. This is not a one-size fits all or quick fix. You will be given the tools you need for lasting changes. Along the journey, you will receive coaching, accountability, and education.
Your plan does not need to be overly restrictive. The goal will be to introduce more minimally-processed, nutrient-dense foods, in addition to developing the tools and understanding to be able to enjoy the foods you love, yet meet your goals.
Questionnaire – Questions to help develop an understanding of where you are at in your fitness journey, so together, we can come up with affective program for you
More than just an individualized macro-nutrient program – Our plan will look not only look at food quality and quantity, but also discuss goals, sleep, recovery, stress, hydration, support environment, activity levels, and what you are ready, willing, and able to do.  Once the information is gathered, we will then collaborate and establish an individualized program for you.  There are things that we will not be able to control, but there are actions that can be taken to best set you up for success.
Weekly client check-in – This is not only to help keep you accountable, but also to review data, make adjustments, and provide you with a game plan for the next week. Everybody's requirements differ and may change over time, so food quantity may also need to be adjusted to fit your requirements
Your plan does not need to be overly restrictive. The goal will be to introduce more minimally-processed, nutrient-dense foods, in addition to developing the tools and understanding to be able to enjoy the foods you love, yet meet your goals.
Email support – unlimited during the time of your nutritional coaching membership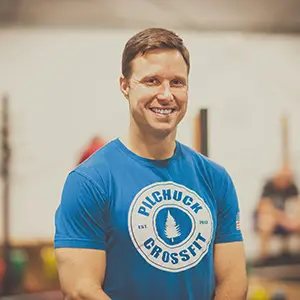 Pat Andrew
Certified Sports Nutritionist

CrossFit

 Level 1 Trainer
USAW Level 1
1 month Coaching support plan
$100
$100
If you're ready to begin or want more information, Email Us to Get Started